NeIC 2015 conference
The NeIC 2015 Conference is scheduled for 5-8. May 2015 in Espoo, Finland.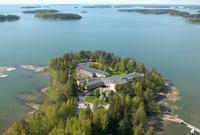 Building on the enthusiasm from the first Nordic e-Infrastructure Conference last year, we are happy to announce the next NeIC Conference, to be hosted by NeIC and CSC - IT Center for Science. Similar to the first NeIC conference we aim to organise NeIC 2015 as a collaboration between CSC, DeIC, NeIC, NORDUnet, RHnet, SNIC and UNINETT Sigma.